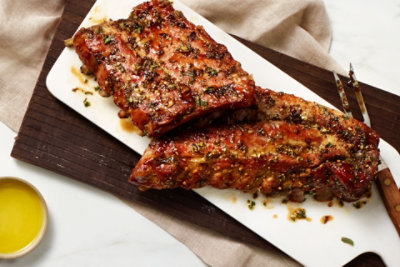 Sage Rubbed Pork Spare Ribs
These Sage Rubbed Spare Ribs could not be easier! Simply season the meat with herbs and spices and bake for two and a half hours. When choosing pork at your local store, look for evenly marbled ribs with fat throughout. With ribs, fat means flavor!
2 hour, 40 mins
Total cook time
Total original price
* Estimated price based on adding all ingredients to cart.
Main Ingredients
1 rack of pork spare ribs (St. Louis Style, approximately 2.5-3 pounds)
1 tablespoon extra-virgin olive oil
1/4 cup finely chopped sage
1/4 cup finely chopped oregano
4 cloves garlic (minced)
1 teaspoon kosher salt
1/2 teaspoon red pepper flakes
Cooking Instructions
Step 1
Preheat oven to 300º. In a small mixing bowl, combine sage, oregano, garlic, salt and red pepper.
Step 2
Place a large piece of aluminum foil on a rimmed baking sheet. Place ribs in center of aluminum foil. Rub both sides with olive oil and spice rub. Seal ribs in aluminum foil and place in oven for 2 hours.
Step 3
Remove from oven and remove ribs from aluminum foil, placing directly on the baking sheet. Reduce oven temperature to 275º and bake for an additional 30 minutes. 
All recipe ingredients should be cooked to a safe internal temperature according to USDA guidelines. After preparing a recipe, please store any leftovers in the refrigerator.