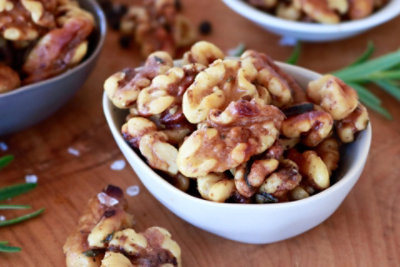 Rosemary Crunch Walnuts
You can boost plant omega-3s and other key compounds in walnuts by enjoying walnuts as a snack or topping on salads and casseroles. This recipe will make these walnuts irresistible for anytime crunching!
Total original price
* Estimated price based on adding all ingredients to cart.
Main Ingredients
4 tsp O Organics® extra virgin olive oil
1 Tbs chopped fresh rosemary (1/2 tsp dried rosemary, crumbled, can be substituted)
1/4 tsp freshly ground salt
1/4 tsp freshly ground pepper or cayenne pepper (if you want there to be a kick)
2 cups walnut halves
Cooking Instructions
Step 1
Add extra virgin olive oil, rosemary, salt and pepper (or cayenne pepper), if desired, in a 4-cup measure or medium bowl and stir to blend well.
Step 2
Add walnuts and toss to cover evenly with the seasoned oil.
Step 3
Heat a large non-stick skillet or frying pan over medium-low heat and coat well with cooking spray. Spread walnuts and oil/herb mixture in the skillet and cook, tossing mixture often, until walnuts are golden and aromatic (about 4 minutes).
All recipe ingredients should be cooked to a safe internal temperature according to USDA guidelines. After preparing a recipe, please store any leftovers in the refrigerator.