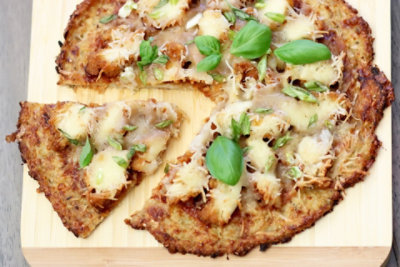 Protein-Packed Pizzas
Topped with lean meats, these three pizza options are packed with protein. Try the Cheesy Cauliflower Crust for a lower carbohydrate veggie crust! 
Total original price
* Estimated price based on adding all ingredients to cart.
BBQ Chicken
2 Tbs barbecue sauce
2.5-4 ounces grilled or rotisserie chicken (from deli) (chopped (about 1/2-1 cup))
Thai Turkey
2 Tbs Thai Peanut Curry Sauce
2.5-4 oz. roasted turkey breast (from deli) (chopped (about 1/2-1 cup))
1/2 cup shredded or grated part-skim mozzarella
1 green onion (white and part green)
1 recipe of Cheesy Cauliflower Crust
20 oz. riced or chopped cauliflower ((fresh or frozen), about 5 cups)
1/4 cup grated or shredded Parmesan
1 teaspoon Italian seasoning (1/2 teaspoon Herbs de Provence can be substituted)
1/4 tsp salt
1/4 cup egg white (1 large egg can be substituted)
1 cup part-skim shredded or grated mozzarella
(or) 2-3 Naan Bread (whole wheat Signature Kitchens®)
(or) 2-3 whole wheat or gluten-free tortillas
Basil Beef
2 tablespoons basil pesto sauce
2.5-4 oz. roast beef (from deli) (chopped (about 1/2-1 cup))
1 green onion (chopped (white and part green))
Cooking Instructions
Step 1
Preheat oven to 425°. Line a non-stick baking sheet with parchment paper. Coat 2, 10-inch wide areas with cooking spray. 
Step 2
If using cauliflower florets, pulse in a food processor until a cauliflower "rice" forms. Place rice or chopped cauliflower in a microwave-safe dish, cover and microwave until soft (about 3 minutes). Let cool for a few minutes, then pour cauliflower into a clean, dry kitchen towel (double thickness works well with thinner towels). Wrap it up and, over the sink, wring out as much moisture as possible.
Step 3
In a large bowl, using a scraper, blend cauliflower with Parmesan, Italian seasoning, salt, egg or egg white and mozzarella. Divide the mixture in two and press each half onto the prepared 10-inch areas.
Step 4
Bake until golden (about 20 minutes).
Step 5
Top each of your chosen crusts with about 2 tablespoons of sauce, lean meat of choice, 1/2 cup of shredded mozzarella and chopped green onion
Step 6
Bake about 10 minutes, or until topping is golden and bubbling. Cut into slices and enjoy!
All recipe ingredients should be cooked to a safe internal temperature according to USDA guidelines. After preparing a recipe, please store any leftovers in the refrigerator.