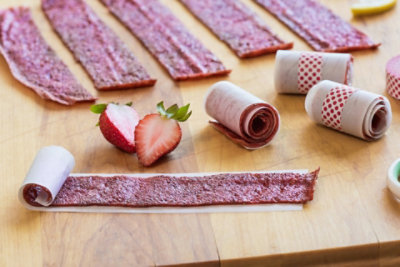 DIY Strawberry Lemonade Fruit Leather
You don't need a dehydrator to make these healthy alternatives to sugary roll-ups. We're fond of the strawberry lemon combination, but you can experiment with other fruits and flavors. For this version, simply add strawberries, honey, and lemon zest to a blender and bake in the oven.
Total original price
* Estimated price based on adding all ingredients to cart.
Main Ingredients
3 cups ripe O Organic strawberries (about 24 ounces) (washed & hulls removed)
zest of 2-3 O Organic lemons
1 tablespoon lemon juice
2/3 cup raw local honey
parchment paper
Cooking Instructions
Step 1
Preheat oven to 170 degrees F. 
Step 2
Place strawberries, lemon zest and juice, and honey in a food processor or high-powered blender. Process until smooth. 
Step 3
Cover a flat baking sheet with parchment paper. 
Step 4
Pour the puree onto the paper and spread thickly and evenly with a spatula. Place in oven and bake 6 - 7 hours, until completely dry (but still sticky). 
Step 5
Roll up the parchment paper. Cut 2-inch segments of fruit leather and store in airtight container. When ready to eat, peel off parchment paper and discard. 
All recipe ingredients should be cooked to a safe internal temperature according to USDA guidelines. After preparing a recipe, please store any leftovers in the refrigerator.