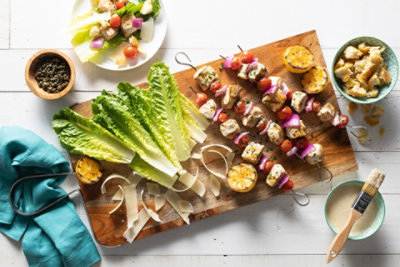 DIY Chicken Caesar Kabob Lettuce Wraps
Recipe Courtesy of Chef Ryan Scott - This recipe is a must-try twist on a classic Caesar salad! Paired with fried capers and homemade sourdough croutons, you may never go back to basic!
1 hour, 30 mins
Total cook time
Total original price
* Estimated price based on adding all ingredients to cart.
Ceasar Kabob Lettuce Wraps:
1 package (1.1-1.3 pounds) Open Nature® Boneless Skinless Chicken Breasts, cut into 1½ - 2" cubes
2 lemons
2 cloves garlic, minced (about 1 teaspoon)
1 teaspoon Signature SELECT™ salt
1/4 teaspoon Signature SELECT™ ground black pepper
1/8 teaspoon O Organics® dried chili powder
1/4 teaspoon O Organics® dried thyme
1/4 cup O Organics® olive oil (plus 1 tablespoon)
1 cup cherry tomatoes
1/2 red onion, peeled and cut into 2" pieces
2-3 heads of romaine hearts
1/2 cup Open Nature® Vegan Caesar Dressing
2 ounces Primo Taglio® Parmigiano Reggiano block, shaved with a vegetable peeler
Hand Torn Sourdough Croutons:
1/2 loaf sourdough bread (unsliced)
1/4 cup O Organics® olive oil or Lucerne® melted butter
1 clove garlic, minced
1/4 teaspoon Signature SELECT™ salt
1/2 teaspoon O Organics® dried thyme
1/4 teaspoon Signature SELECT™ ground black pepper
Fried Capers:
1/4 cup capers, drained and blotted dry on a paper towel
3/4 cup Signature SELECT™ vegetable oil
Cooking Instructions
Step 1 :: Caesar Kabob Lettuce Wraps:
Slice one lemon into thin (1/4") slices and place it in a gallon-size zip-top bag. Add the minced garlic, salt, pepper, chili flakes, and 1/4 cup of olive oil. Massage the lemons through the bag to release the lemon juice and oils from the peel. Add the cubes of chicken breast and seal the bag, removing as much air as possible. Give the bag a few quick squeezes to coat the chicken with marinade and leave it to marinate for 45 minutes to an hour. While the chicken marinates, make your croutons (see crouton recipe instruction, recipe from No Fuss Family Cookbook).
Step 2 :: Caesar Kabob Lettuce Wraps:
Preheat your grill to high heat. Separate the red onion chunks into "petals" and combine them in a medium bowl with the cherry tomatoes. Add a pinch of salt and a tablespoon of olive oil and toss to coat. Make your chicken skewers, alternating between chicken, tomato and red onion petal. Be sure not to crowd the ingredients too much so that the meat cooks thoroughly. Cook the skewers on the hot grill for 4 minutes on each side. The chicken should have some nice dark grill marks and the tomatoes and onions should be blistered and caramelized. While still hot from the grill, brush the skewers liberally with Caesar dressing. Cut the remaining lemon in half and grill the cut side for 2 to 3 minutes to get nice, caramelized grill marks. Set the lemons and cooked skewers aside while you build your DIY lettuce wrap smorgasbord.
Step 3 :: Caesar Kabob Lettuce Wraps:
To assemble the wraps, first cut the bottoms off of the romaine hearts and separate the leaves. Discard the larger leaves with limp edges (we only want the crisp inner leaves that will act like long cups or taco shells). Arrange your fixings on a large platter or wooden board: romaine heart lettuce cups, cooked and brushed skewers, bowl of Caesar dressing, parmesan shavings, fried capers (see separate fried capers recipe instructions), grilled lemons, and croutons. Add anchovies for an extra dose of flavor if you're adventurous!
Step 4 :: Hand Torn Sourdough Croutons:
Preheat the oven to 375°F
Step 5 :: Hand Torn Sourdough Croutons:
In a large mixing bowl, combine the olive oil, minced garlic, salt, thyme, and pepper for the croutons. Tear the sourdough loaf into bite-sized chunks and add to the bowl. Toss the bread chunks in the oil and spices until they are well-coated. Pour the dressed bread chunks onto a baking sheet lined with parchment or foil and arrange them into a single layer.
Step 6 :: Hand Torn Sourdough Croutons:
Bake until they are toasted and golden brown, about 25 minutes. The edges will be dark brown, and there should still be just a touch of softness in the centers.
Step 7 :: Fried Capers:
Heat the oil in a small sauté pan over medium heat until reaching 300-325°F. Carefully add the capers and fry until browned. The sizzling and popping will have mostly subsided as the liquid in the capers evaporates. It should take 3-4 minutes or so.
Step 8 :: Fried Capers:
Drain the capers from the oil and lay them out onto a dry paper towel to soak the excess oil up.
Step 9 :: Helpful Hints
Technique Tip: Use metal skewers! You don't have to soak them, they are better for the environment, and they don't take up much space. *(if you do use wooden skewers, please soak them in water for at least 4 hours before grilling to prevent them burning up while your meat cooks).
Step 10 :: Helpful Hints
Swap Option: Make it vegetarian! Use eggplant, summer squash, and extra-firm tofu or seitan in place of chicken to make this an unforgettable vegetarian entree.
Step 11 :: Helpful Hints
Swap Option: For a more rich dish, use Lucerne® melted butter in place of olive oil!
All recipe ingredients should be cooked to a safe internal temperature according to USDA guidelines. After preparing a recipe, please store any leftovers in the refrigerator.