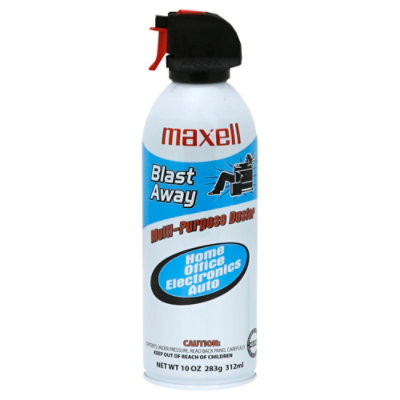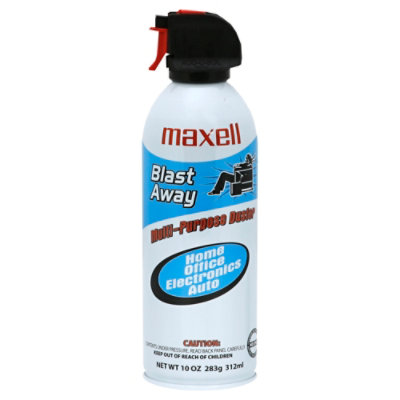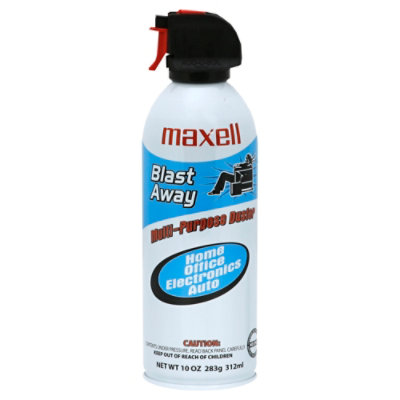 Maxell Multipurpose Duster - 2-10 Oz
Multi-Purpose Duster
Home. Office. Electronics. Auto. Contains no CFCs which deplete the ozone layer. Compressed gas. Made in USA.
Warning
Contains: Contents under pressure. Misuse by deliberately concentrating and inhaling contents may be harmful or fatal. Pease use our product responsibly. Contains a bitterant to help discourage inhalant abuse. Never shake or tilt can before or during usage. Use in upright position only. Never use near a potential ignition source. Never spray into an enclosed space, such as a trash can or paper shredder. Never use on camera mirrors. Avoid skin contact with product in liquid form, may cause frostbite. Avoid contact with product in liquid form, may cause plastic to discolor. Keep out of reach of children. Use in well-ventilated area. This product can be ignited under certain circumstances. Therefore, do not use near potential ignition sources, hot surfaces, or spark-producing equipment such as paper shredders or under electrical appliances. Do not tilt, shake, or turn can upside down before or during use as liquid contents may be dispenses. Liquid contents may cause frostbite on contact with skin. Contact physician if such contact occurs. Store in cool place. Do not leave in direct sunlight, enclosed vehicle, or expose to temperatures above 120 degrees F (49 degrees C), as overheating could cause can to burst. Do not pierce or burn, even after use. Contains difluorethane. Medical emergencies: Call 911, physician. Inhalation: Immediately move to fresh air. Eyes: Immediately flush with water. Skin: Immediately wash with warm water. Treat for frostbite if necessary.
Directions
Before use: 1. Remove small tab on top of spray nozzle. 2. Point nozzle away from self and others. 3. Hold can upright and pull trigger to clear valve of any liquid. To use: 1. Hold can upright approx. 2 inches away from item to be cleaned. 2. Pull trigger in a series of short blasts. 3. To clean hard-to-reach areas, firmly insert extension tube into nozzle.
About the Producer
MAXELL