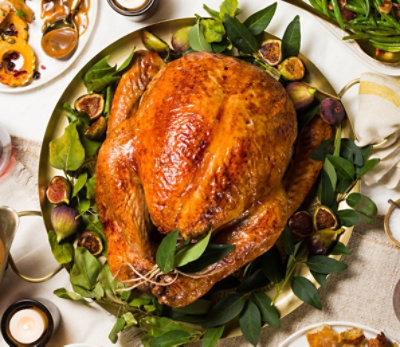 Bird's the Word
Need a hand cooking your turkey? We have you covered with tasty tips to try. But, first, let's talk about thawing.
If you plan to defrost a frozen turkey in the refrigerator, allow 24 hours for every 5 pounds. Prefer to use cold water? Let your bird thaw 30 minutes for every pound. Want to thaw your bird in a cooler? Plan an hour for every pound.
Time to cook! Want to avoid a dry turkey? Rub butter under the skin and let the turkey rest for about 20 minutes before carving. Planning to brine? Try a fun flavor twist! 4 cups of your favorite beer, 8 cups of apple juice or a jar of your favorite soy sauce can help you cook a turkey that will wow even picky eaters.
Shop now for your turkey! Have questions? Our expert butchers are always happy to help. 
Spatchcock Made Simple
Want to roast the perfect bird? Enjoy bold flavors with this simple technique. Also known as butterflying, spatchcocking is a cooking method that can save you time and precious oven space. Removing the turkey's backbone means you can spread it out flat to cook. The result? Super-fast roasting times and unbelievably easy carving.
Are you prepping a frozen turkey? Be sure to defrost first! Then, before you brine or season, go ahead and spatchcock. How you cook it is up to you! Grill, roast or fry, then enjoy!
Have questions about spatchcocking? Need something special? Our expert butchers are always happy to help.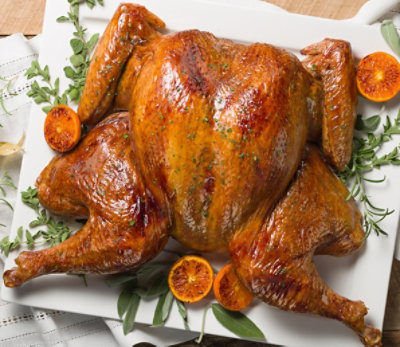 $30 Off
on your first DriveUp & Go™ order when you spend $75 or more*
Enter Promo Code SAVE30 at checkout
Offer Expires 6/30/22
* OFFER DETAILS: TO SAVE $30 YOU MUST SPEND $75 OR MORE IN A SINGLE TRANSACTION FOR YOUR FIRST ONLINE PICKUP ORDER OF QUALIFYING ITEMS. OFFER DOES NOT APPLY TO ONLINE ORDERS SCHEDULED FOR PICKUP AFTER THE OFFER EXPIRATION DATE. Must select PICKUP option and enter Promo Code SAVE30 at checkout. Minimum purchase amount is calculated based on subtotal of all qualifying items at checkout after deduction of all other promotions, offers, discounts, and savings and excludes alcoholic beverages, tobacco, and fluid dairy products, bottle/container deposits, and any fees, charges, and taxes. Offer may not be combined with any other promotion, offer, discount or savings and other restrictions may apply. VALID FOR 1ST TIME ONLINE PICKUP GROCERY ORDER. LIMIT 1 PER HOUSEHOLD. We reserve the right to modify or cancel offers/orders and/or to correct typographical, pictorial, and other ad or pricing errors.
ALL ORDERS: Delivery and pickup service available in select areas. In some areas we do not provide delivery service in which case such service may be provided by one of our other banners (that banner's product availability, pricing and promotions will apply) or a third-party service provider; or independently by Instacart (Instacart's terms and conditions, account registration, fees, product availability, pricing and promotions apply). Online orders require a minimum purchase, unless otherwise noted. Online promotions, discounts and offers may differ from those in our physical stores. Clearance, single-store, and in-store only specials or promotions may not be available for an online order. Prices for products you order online are based on the price catalog in use at the store that prepares your order. The time of day that price updates occur may differ between the store preparing your order and online. You will pay the prices, fees, and other charges, and receive the promotions, offers, discounts, and savings applicable to your order at the time of online checkout, regardless of the date of scheduled delivery/pickup. Any negative balance/credit amount shown resulting from Promo Codes, coupons, or other discounts and offers will be adjusted to $0. We also adjust the amount charged for out-of-stock items, substitution products, weighted items, and offers that do not apply due to the terms of the applicable offer. The final amount shown on your receipt at the time of delivery/pickup will reflect these adjustments. Full terms available at albertsonscompanies.com/about-us/our-policies/terms-of-use.html and delivery.safeway.com/terms.