Deli - Deli Meats & Cheeses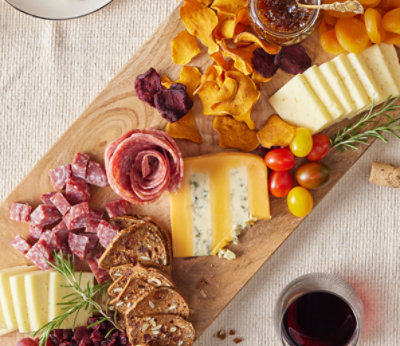 Prepare the perfect charcuterie
It's the perfect time to gather with friends and family for a holiday soirée. Whether it's a casual get-together or a special occasion, one of the best ways to impress your guests is with a well-curated charcuterie board.
When it comes to preparing the perfect charcuterie board for your holiday gathering, here are some tips to keep in mind:
Choose a variety of meats and cheeses: Aim for a mix of flavors and textures, such as soft and hard cheeses, salty and sweet meats.
Add some fruit and nuts: Fresh or dried fruit and nuts can add a pop of color and provide a nice contrast to the meats and cheeses.
Use a mix of crackers and bread: Offer a variety of crackers and bread to pair with the meats and cheeses.
Don't forget the extras: Olives, pickles, honey, and spreads can add an extra layer of flavor to your charcuterie board.
No matter what you need for your holiday spread, Safeway has you covered with premium meat, artisan cheese and more. Shop online or in-store for all your fresh faves.
Prefer to keep it simple? Leave the prep to our pros and order a signature deli tray for easy pickup.