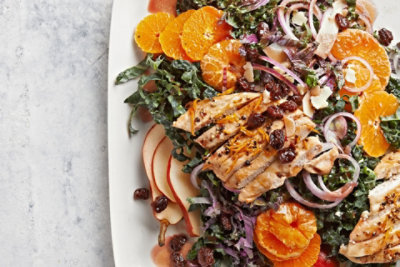 Recipe by
Better Homes & Gardens
Power Kale Salad
Composed of lean protein, antioxidant-rich fruit and vitamin-packed kale, this colorful salad packs a nutritious punch.
Total original price
* Estimated price based on adding all ingredients to cart.
Main Ingredients
4 skinless, boneless chicken breast halves (about 1 1/4 pounds),
3 tablespoons olive oil, divided,
2 seedless tangerines or oranges,
½ teaspoon salt, divided,
½ teaspoon coarsely ground black pepper, divided,
½ cup dried tart red cherries,
½ cup pomegranate-blueberry juice blend,
1 tablespoon red-wine vinegar,
4 ounces green or purple kale leaves, shredded (4 cups),
½ cup thinly sliced red onion,
1 red or green pear, thinly sliced,
1 ounce Parmesan cheese, shaved,
Cooking Instructions
Step 1
Preheat oven to 400°F. Brush chicken with 1 tablespoon oil. Transfer to a foil-lined baking sheet. Finely shred 2 teaspoons peel from tangerines (or oranges). Peel tangerines (or oranges); slice crosswise and set aside. Sprinkle chicken with citrus peel, 1/4 teaspoon each salt and pepper. Bake 15 to 20 minutes or until done (165ºF). Transfer to a cutting board; let stand 5 minutes.
Step 2
Meanwhile, place cherries in a small microwave-safe bowl. Add pomegranate-blueberry juice; microwave on High for 30 seconds. Let stand 10 minutes. Drain cherries, reserving juice; set cherries aside.
Step 3
For dressing, in a small bowl whisk together reserved juice, remaining 2 tablespoons olive oil, vinegar, remaining 1/4 teaspoon each salt and pepper. Pour half the dressing into a large bowl. Add kale and onion; toss to coat. Transfer to a serving platter.
Step 4
Slice chicken; arrange over kale mixture with tangerines (or oranges) and pear. Top with cherries and Parmesan cheese. Drizzle with the remaining dressing.
All recipe ingredients should be cooked to a safe internal temperature according to USDA guidelines. After preparing a recipe, please store any leftovers in the refrigerator.