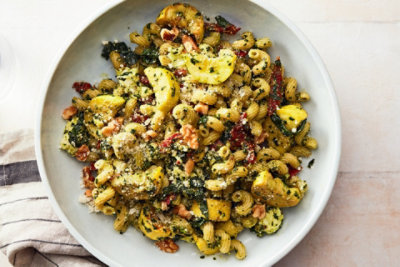 Kale-Walnut Pesto Pasta with Summer Squash and Mozzarella
We're skipping the red sauce in this pasta recipe and going green with a vibrant kale, basil, and walnut pesto. Cavatappi, or corkscrew, in Italian, refers to the spiral-shaped pasta that's perfect for scooping up the sauce here, and is so much fun to eat. Tasty mix-ins like sautéed squash, mozzarella, and sun-dried tomatoes break up the green and make the pasta feel even more summery. Kitchen helpers can tear the mozzarella and toss everything together.
Total original price
* Estimated price based on adding all ingredients to cart.
Main Ingredients
12 ounces summer squash
1 lemon
8 ounces dinosaur kale
1/2 ounce basil
3 ounces sun-dried tomatoes
2 cloves garlic
1/2 cup walnuts
2 ounces grated Parmesan cheese
1 pound cavatappi
8 ounces fresh mozzarella
olive oil
kosher salt
black pepper
Cooking Instructions
Step 1
Bring a large pot of water to a boil over high heat. Rinse all produce. Halve squash lengthwise; cut crosswise into .5-inch half-moons, discarding ends. Halve lemon. Stack kale leaves and thinly slice, discarding long stems. Pick basil leaves, discarding stems. Thinly slice sun-dried tomatoes. Using the flat side of a knife, gently crush garlic cloves.
Step 2
In a food processor or blender, combine basil, crushed garlic, half of kale, half of walnuts, and .5 cup olive oil and pulse until smooth (see recipe tip). Stir in half of Parmesan, juice of .5 lemon, .75 teaspoon salt, and pepper as desired. Set kale-walnut pesto aside until Step 5. Use remaining lemon to brighten a glass of water. 
Step 3
Season boiling water generously with salt. Stir in cavatappi and cook until al dente, about 7 minutes. Reserve .5 cup pasta cooking water, then drain and return to pot, off heat (see recipe tip). Meanwhile, cut or tear mozzarella into bite-size pieces—this is a great task for a kitchen helper.  
Step 4
While pasta cooks, heat 1 tablespoon olive oil in a large pan over medium-high heat. When oil is shimmering, add squash and sauté, strirring, until softened, 4-5 minutes. Season with .5 teaspoon salt and pepper as desired. Stir in remaining kale and cook until wilted, 2 minutes. Remove pan from heat and set aside until pasta is cooked. 
Step 5
Once pasta is cooked, add kale-walnut pesto and sun-dried tomatoes to pot with pasta, off heat, and stir to combine. Stir in reserved pasta cooking water, 2 tablespoons at a time, until pesto clings to noodles (you likely won't need to use all of the pasta water). Stir in sautéed squash and kale and mozzarella until fully combined (enlist a kitchen helper for this part). Taste and add salt and pepper as desired.
Step 6
Divide kale-walnut pesto pasta among serving bowls. Garnish with remaining walnuts and remaining Parmesan. Dig in! 
All recipe ingredients should be cooked to a safe internal temperature according to USDA guidelines. After preparing a recipe, please store any leftovers in the refrigerator.