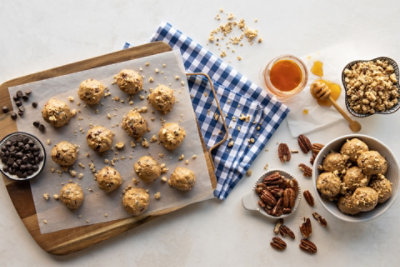 Superfood Energy Bites
Quick, clean, and delicious, these superfood energy bites can be ready in just 1O minutes! Made with high-quality ingredients like O Organics® and Open Nature®, this snack is sure to have you feeling super!
Total original price
* Estimated price based on adding all ingredients to cart.
Main Ingredients
1 1/2 cups Open Nature® Almond Butter
1 cup Open Nature® Dark Chocolate Hazelnut Granola
1 -2 scoops Open Nature® Plant-Based Vanilla Protein Powder
2 tablespoons O Organics® Honey
1 tablespoon chia seeds
1/2 teaspoon O Organics® Ground Cinnamon
1/3 cup O Organics® Unsweetened Coconut Flakes
1/3 cup dark chocolate chips, roughly chopped
Cooking Instructions
Step 1
In a medium bowl, stir together all ingredients until evenly incorporated.
Step 2
Scoop and roll into balls about 1 1/2 tablespoons each. Store in a covered container in the refrigerator and use as an on-the-go snack. Enjoy!
Step 3 :: Helpful Hints
Optional add-ins that would be delicious: dried cranberries, dried blueberries, ground flaxseed, chopped pecans, almonds, walnuts, or cashews.
Step 4 :: Helpful Hints
Peanut butter may be substituted for almond butter.
All recipe ingredients should be cooked to a safe internal temperature according to USDA guidelines. After preparing a recipe, please store any leftovers in the refrigerator.