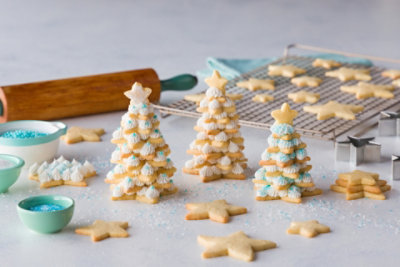 Stacking Sugar Cookie Trees
Stack these delicious and easy sugar cookies into a tree for festive fun!
Total original price
* Estimated price based on adding all ingredients to cart.
Main Ingredients
1 cup butter, softened
1 large egg
1 teaspoon orange zest
1 ½ teaspoons pure vanilla extract
2 ½ cups all-purpose flour, sifted
1/4 teaspoon baking soda
1/4 teaspoon cream of tartar
1 16 oz. can vanilla frosting
Sprinkles to decorate
Cooking Instructions
Step 1
Using a stand mixer, cream butter and sugar together. Add egg, orange zest and vanilla. Slowly add dry ingredients until well mixed. Divide dough in half and roll out to 1/4 inch thickness between 2 pieces of parchment paper. Refrigerate for 30 minutes.
Step 2
Using a 5-piece nesting star-shaped cookie cutter set, cut out cookies. Bake at 350 degrees for 8-12 minutes. Remove from oven and let rest for 1 minute then transfer to a wire rack to cool completely.
Step 3
To assemble trees, ice cookies with desired frosting. Stack cookies starting with the largest star cookie and ending with the smallest star cookie. Turn cookies a quarter turn between each new cookie stacked to create branches. For taller trees use multiples of some sizes of cookies for each tree.
Step 4 :: Helpful Hints
Cookies can be made in advance and stored (without icing) for up to one month in the freezer.
All recipe ingredients should be cooked to a safe internal temperature according to USDA guidelines. After preparing a recipe, please store any leftovers in the refrigerator.