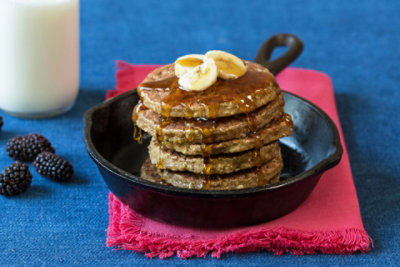 Power Pancakes
For maximum brain power, kids need pancakes that pack a punch! We're crazy about this recipe, which adds protein and nutrients with cottage cheese and banana. Oats make them heartier and cinnamon makes them tasty. This is a perfect school day breakfast for growing children.
Total original price
* Estimated price based on adding all ingredients to cart.
Main Ingredients
2 eggs
1 cup low-fat cottage cheese
1/2 small really ripe banana
1 cup uncooked quick one-minute oats
1/2 teaspoon baking powder
1 teaspoon ground cinnamon
Cooking Instructions
Step 1
In a food processor or blender, add eggs and pulse to beat.
Step 2
Next, add cottage cheese and banana, processing until cottage cheese is smooth.
Step 3
Then, add the oats, baking powder and cinnamon. Process until well-combined.
Step 4
Heat a flat skillet or griddle over medium heat. Coat skillet with non-stick cooking spray, or with a teaspoon butter or coconut oil.
Step 5
Using a large spoon, ladle, or cookie scoop, pour in about ¼ cup of batter for one pancake. 
Step 6
Cook each pancake about 2-3 minutes per side, until done. Enjoy!
All recipe ingredients should be cooked to a safe internal temperature according to USDA guidelines. After preparing a recipe, please store any leftovers in the refrigerator.