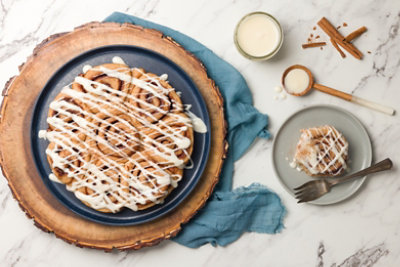 Overnight Christmas Morning Cinnamon Rolls
Make these lighter cinnamon rolls a new family tradition! They can be assembled on Christmas Eve and then popped in the oven first thing Christmas morning. With mostly whole wheat flour, light cream cheese and vanilla icing, these cinnamon rolls are lighter and simply scrumptious!
3 hour, 45 mins
Total cook time
Total original price
* Estimated price based on adding all ingredients to cart.
Dough
1 cup plus 2 tablespoons warm low fat milk (microwave and stir until warm but not hot to the touch)
3 tablespoons canola oil
1/2 cup Lucerne® egg substitute (2 large eggs, beaten, can be substituted)
1/3 cup granulated sugar
2 1/2 cups whole wheat flour
1 1/2 cups unbleached white flour
1 teaspoon salt
4 teaspoons active dry or rapid rise yeast
Filling
3/4 cup packed dark brown sugar
2 tablespoons ground cinnamon
1/4 cup Lucerne® whipped butter or margarine with 7 grams fat per tablespoon
Icing
1/2 cup Lucerne® 1/3 Less Fat cream cheese
1/2 teaspoon vanilla extract
1 cup powdered sugar
Cooking Instructions
Step 1
Place dough ingredients in a 2-pound bread machine in the order recommended by the manufacturer (usually you add the liquids first then the flour, add the salt to the side of the pan, make an indent in the center of the flour and add the yeast there). Set machine to DOUGH cycle and press start.
Step 2
Meanwhile, combine brown sugar and cinnamon in a bowl. When dough cycle is complete, roll dough out on lightly floured surface until it is about 21 inches long and 16 inches wide (and about 1/4 inch thick).
Step 3
Let them rise in your warm kitchen for about an hour. You can bake them now or gently cover the pan(s) with plastic wrap and keep in the refrigerator overnight.
Step 4
Bake in a preheated 375-degree oven for about 12 minutes or until the rolls are light brown on top and cooked throughout. While the rolls bake, beat the icing ingredients (cream cheese, vanilla extract, powdered sugar) with a mixer until fluffy. When rolls come out of the oven, spread icing over the top with a large spoon or spreader.
All recipe ingredients should be cooked to a safe internal temperature according to USDA guidelines. After preparing a recipe, please store any leftovers in the refrigerator.