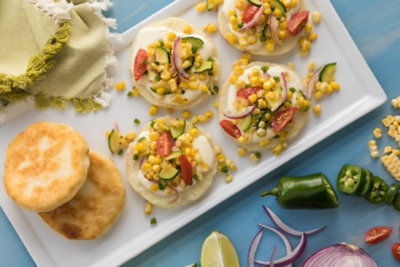 Mozzarella Arepas
Spice up supper time with this tasty and trendy Latin street dish. Miniature masa pancakes are stuffed with melted cheese and corn, then pan fried to crispy perfection.
Total original price
* Estimated price based on adding all ingredients to cart.
Main Ingredients
2 cups harina de maíz corn meal
2 ¼ teaspoons kosher salt, divided
2 ½ cups warm water
3-6 tablespoons avocado oil
2 cups corn kernels
1/4 cup red onion slices
1 zucchini, cut into small dice
1/2 cup quartered cherry tomatoes
1 jalapeño, cut into small dice
1/4 teaspoon ground black pepper 
juice of 1 lime
8 ounces fresh buffalo mozzarella, cut into small pieces
Cooking Instructions
Step 1
Mix the marina de maíz and 2 teaspoons salt. Add the water and whisk to remove any lumps. Stir until combined. Let the mixture rest for 5 minutes covered with a dish towel.
Step 2
Preheat oven to 400°. Using your hands, divide the dough into 8 pieces. Roll each piece into a ball and flatten gently to create a disk, about 1/2-inch thick. Heat a thin layer of avocado oil in a large heavy skillet over medium heat. Fry the disks 3 to 4 minutes on each side, until mostly golden brown. Cool and drain on paper towel lined plate.
Step 3
Place packets onto medium-high heat grill and cook for 15-18 minutes per side, or until all ingredients reach internal temperature of 165°.
Step 4
After all the arepas are made, increase heat to medium-high and add corn, zucchini, red onion and jalapeño to the pan. Season with remaining kosher salt and pepper. Sauté 4 to 5 minutes, until corn makes a popping sound and is slightly caramelized. Squeeze lime over corn.
Step 5
Cut arepas in half and place on a parchment-lined, rimmed baking sheet. Top with cheese and about 1/4 cup of the corn mixture. Place in oven until the cheese is melted, about 3 minutes.
Step 6 :: Helpful Hints
Do not substitute masa harina in this recipe. Harina de maíz is a precooked corn meal which makes a light texture.
Step 7 :: Helpful Hints
If you are a bit heat sensitive but like the flavor of jalapeño, remove the ribs and seeds before adding to the corn mixture.
All recipe ingredients should be cooked to a safe internal temperature according to USDA guidelines. After preparing a recipe, please store any leftovers in the refrigerator.