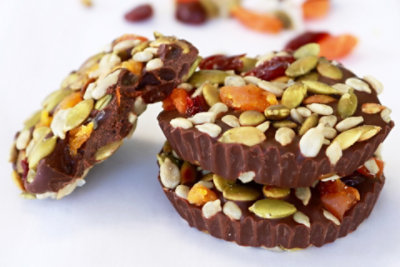 Fruit & Seed Chocolate Cups
These crunchy and creamy chocolate cups are a tasty and allergen-friendly alternative to popular candy bars and snack cakes. 
Total original price
* Estimated price based on adding all ingredients to cart.
Main Ingredients
1 1/2 cups seed & dried fruit mixture (purchase or put together your own with)
1/2 cup The Snack Artist ™ roasted & seasoned sunflower kernels
1/2 cup toasted shelled green pumpkin seeds (see note if using raw pumpkin seeds)
1/2 cup coarsely chopped dried fruit of your choice ((cranberries, cherries, apricots, raisins, currants)
3/4 cup dark chocolate chips/ morsels
1/2 tsp Signature Kitchens ground cinnamon (optional)
1 tsp finely-chopped orange zest (optional)
Cooking Instructions
Step 1
Place a cupcake/muffin liners or papers in a 9 x 13" pan (or similar). Spread 1 tablespoon of the fruit and seed mixture in the bottom of each muffin liner. 
Step 2
Place chocolate and canola oil in a microwave-safe glass measuring cup. Microwave 60 seconds and then stir. Microwave for another 30 seconds and stir to completely melt the chocolate. Stir in cinnamon or orange zest if desired.
Step 3
Let the chocolate cool slightly (5 minutes). Using a tablespoon measure, pour 1 tablespoon of chocolate into each prepared paper. You can use the back of a small spoon to spread the chocolate evenly over the nut and seed mixture. 
Step 4
Sprinkle the remaining fruit and seed mixture over the tops of the chocolate cups (1 tablespoon each). Gently press with the back of a spoon, if needed, to set the seed mixture gently into the chocolate. Refrigerate until hardened, then store in a covered container in the refrigerator until ready to serve or place in a plastic bag and pack in a lunchbox. 
All recipe ingredients should be cooked to a safe internal temperature according to USDA guidelines. After preparing a recipe, please store any leftovers in the refrigerator.