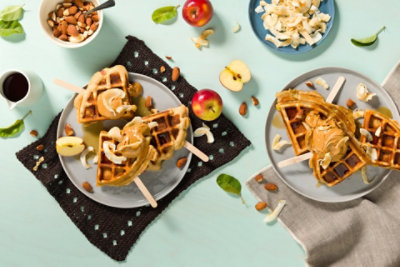 Apple Cinnamon Waffle Pops
With tons of flavor and nutrition, these Apple Cinnamon Waffle Pops come together thanks to O Organics®.
Total original price
* Estimated price based on adding all ingredients to cart.
Main
1 cup O Organics® Protein Pancake and Waffle Mix
1/2 cup O Organics® Almond Milk with Toasted Coconut Milk
1 O Organics® Egg
2 tablespoons O Organics® Old Fashioned Peanut Butter
1/2 teaspoon O Organics® ground cinnamon
1/2 O Organics® Gala Apple, thinly sliced and chopped
8 wooden popsicle sticks
Cooking Instructions
Step 1
In a medium bowl, mix together coconut milk, egg, peanut butter and cinnamon. Add in waffle mix and stir together just until combined. Fold in chopped apple.
Step 2
Heat a waffle iron and spray generously with nonstick cooking spray. Carefully scoop in half of the batter into a Belgian waffle maker. Gently place popsicle sticks in each quarter of the Belgian waffle, so half of the stick is out of the waffle maker. Put the top down and cook the waffle for 3 minutes or until cooked through.
Step 3
Remove waffle and let cool slightly. Using a serrated knife, slice the waffle into quarters, so that it's divided into 4 waffle pops. Repeat for the rest of the batter.
Step 4
Serve Waffle Pops with different dips, such as O Organics® pure maple syrup, whipped cream, peanut butter, or almond butter.
Step 5 :: Helpful Hints
Waffle Pops can be made into Dessert Waffle Pops! Just use the same recipe above, but swap out the apple and cinnamon for 2 tablespoons of O Organics® unsweetened cocoa powder. Cook the same way, then drizzle the pops with melted O Organics® chocolate chips and sprinkle with unsweetened coconut and chopped peanuts.
Step 6 :: Helpful Hints
Waffle Pops can be frozen to have an easy breakfast or snack ready in seconds. Just let cool completely, then place pops in a freezer-safe bag. Place in freezer and use within 3 months
All recipe ingredients should be cooked to a safe internal temperature according to USDA guidelines. After preparing a recipe, please store any leftovers in the refrigerator.