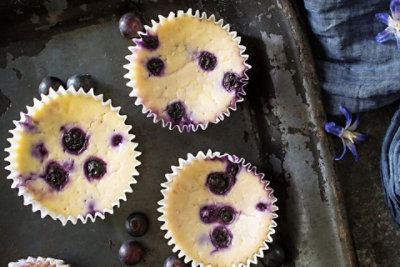 Mini Blueberry-Lemon Cheesecakes
This muffin-tin mini cheesecake recipe is an adorable, healthy dessert that's the perfect cute size. If making 2 dozen seems like overkill, the recipe can easily be cut in half. If you avoid gluten, use gluten-free graham crackers to make the crust.
3 hour, 10 mins
Total cook time
Total original price
* Estimated price based on adding all ingredients to cart.
Main Ingredients
1½ cups graham cracker crumbs (from about 10 whole graham crackers),
3 tablespoons canola oil,
1 15-ounce container part-skim ricotta cheese,
2 8-ounce packages reduced-fat cream cheese, at room temperature,
4 large eggs,
1 cup sugar,
2 teaspoons lemon zest,
5 tablespoons lemon juice,
1 teaspoon vanilla extract,
½ teaspoon salt,
1½ cups blueberries, , fresh or frozen (not thawed), divided
Cooking Instructions
Step 1
Preheat oven to 325°F. Line 24 (1/2-cup) muffin cups with paper liners or coat with cooking spray.
Step 2
Combine graham cracker crumbs and oil in a small bowl. Press about 2 teaspoons in the bottom of each muffin cup.
Step 3
Beat ricotta in a large mixing bowl with an electric mixer until smooth. Add cream cheese, eggs, sugar, lemon zest and juice, vanilla and salt; beat until smooth. Fold in 1 cup blueberries. Spoon about 1/4 cup cheesecake batter into each muffin cup. Sprinkle each cheesecake with some of the remaining blueberries.
Step 4
Bake the cheesecakes until almost set in the center, 32 to 35 minutes. Let cool in the tin on a wire rack until room temperature, about 1 hour. Loosely cover with plastic wrap and refrigerate until cold, at least 2 hours and up to 1 day.
All recipe ingredients should be cooked to a safe internal temperature according to USDA guidelines. After preparing a recipe, please store any leftovers in the refrigerator.