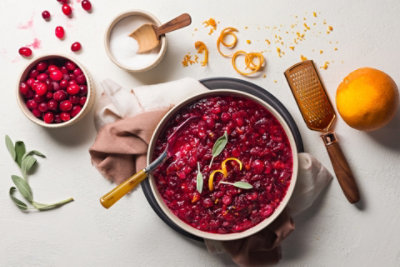 Easy Orange Cranberry Sauce
This festive sauce is as easy as it is beautiful. With orange and zest added and half the amount of sugar added, this is a light and flavorful rendition of the traditional favorite. 
Total original price
* Estimated price based on adding all ingredients to cart.
Main Ingredients
1/2 cup granulated sugar
1/2 cup Signature KitchensTM Granulated Sucralose (or Splenda)
2 large oranges (includes 1 tablespoon orange zest and segments from 2 oranges)
1 12-ounce bag fresh or frozen cranberries (about 3 cups)
Cooking Instructions
Step 1
Remove the zest from one orange (about 1 tablespoon), finely chop it, and add to a medium, nonstick saucepan. Remove the peel from this orange and the remaining orange and place orange segments in saucepan with zest; use potato masher or similar to mash segments. 
Step 2
Place remaining ingredients in saucepan and stir well (add 1/4 – 1/2 cup of orange juice or water if needed or small oranges are used); bring to a boil over medium-high heat. 
Step 3
Reduce the heat to a simmer and let cook, stirring occasionally, until cranberries pop open and sauce is nicely thickened (about 10-15 minutes). 
Step 4
Cool about 30 minutes then store in a covered container in the refrigerator until ready to serve.
All recipe ingredients should be cooked to a safe internal temperature according to USDA guidelines. After preparing a recipe, please store any leftovers in the refrigerator.