Fresh Ideas for Fall's Harvest
Plan your perfect fall menu with the fresh flavors of fall, and dig in. 
Pumpkin
Pumpkins can be transformed into an array of delicious dishes, thanks to their subtly sweet, nutty flavor. 
Ways to use:
Bread and Pies: Nothing says holiday baking quite like pumpkin pie or bread. 
Roasting and Grilling: Brush thin slices of pumpkin with olive oil, season with salt and pepper, and grill. 
Baked: Baked pumpkin lends itself to rich, creamy dishes such as pumpkin gratin.
Soup: Simmer with onion and garlic (and maybe fresh thyme) in vegetable or chicken stock, and blend into a soup.
Seeds: When roasted or toasted, the seeds make an excellent snack on their own or a crunchy addition to your salad. 
Squash
Squash can bring a fun autumn element to any meal. There are several varieties, from the full-flavored butternut squash to the hearty acorn squash. 
Ways to use:
Roasted: Add fresh rosemary or thyme and some salt and pepper. It makes a fantastic side to chuck roast, baked ham or roasted chicken.  
Salad: Use it as a bed for a kale salad or a black bean bowl. 
Spaghetti: It's easy, and a healthy alternative to pasta. 
Stuffed: Cut it in two halves, scoop out and stuff with almost anything you want.  
Soup: Somewhat sweet, delicious with freshly baked bread.  
Baked: Pumpkin pie, muffins, and breads can easily substitute with most winter squashes for a tasty treat. 
Apples
From McIntosh and Granny Smith to Honeycrisp and Gala, there are dozens of apple varieties, and their flavors range from extremely tart to super sweet.  
Ways to use:
Pies and Crisps: Bake a few pies for friends, family, or neighbors and share your harvest. 
Cakes and Muffins: Serves as a delicious breakfast snack with your morning coffee.  
Salads: Toss a handful of thinly sliced apples into almost any salad. It adds color and offers a different way to enjoy your favorite fruit.  
Cheese Board: Cut through the creamy cheeses and cleanse your palate. Have some fun setting it up and watch as friends and family enjoy. 
Butter and sauces: Perfect on toast, but also a great option for serving alongside rolls or biscuits.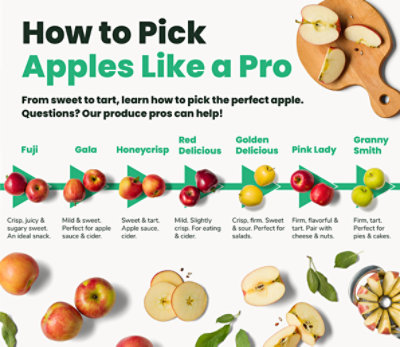 Shop Seasonal Favorites
$30 Off
on your first DriveUp & Go™ order when you spend $75 or more*
Enter Promo Code SAVE30 at checkout
Offer Expires 12/31/22
*OFFER DETAILS: TO SAVE $30 YOU MUST SPEND $75 OR MORE IN A SINGLE TRANSACTION FOR YOUR FIRST ONLINE PICKUP ORDER OF QUALIFYING ITEMS. OFFER DOES NOT APPLY TO ONLINE ORDERS SCHEDULED FOR PICKUP AFTER THE OFFER EXPIRATION DATE. Must select PICKUP option and enter Promo Code SAVE30 at checkout. Minimum purchase amount is calculated based on subtotal of all qualifying items at checkout after deduction of all other promotions, offers, discounts, and savings and excludes alcoholic beverages, tobacco, and fluid dairy products, bottle/container deposits, and any fees, charges, and taxes. Offer may not be combined with any other promotion, offer, discount or savings and other restrictions may apply. VALID FOR 1ST TIME ONLINE PICKUP GROCERY ORDER. LIMIT 1 PER HOUSEHOLD. We reserve the right to modify or cancel offers/orders and/or to correct typographical, pictorial, and other ad or pricing errors.
ALL ORDERS: Delivery and pickup service available in select areas. In some areas we do not provide delivery service in which case such service may be provided by one of our other banners (that banner's product availability, pricing and promotions will apply) or a third-party service provider; or independently by Instacart (Instacart's terms and conditions, account registration, fees, product availability, pricing and promotions apply). Online orders require a minimum purchase, unless otherwise noted. Online promotions, discounts and offers may differ from those in our physical stores. Clearance, single-store, and in-store only specials or promotions may not be available for an online order. Prices for products you order online are based on the price catalog in use at the store that prepares your order. The time of day that price updates occur may differ between the store preparing your order and online. You will pay the prices, fees, and other charges, and receive the promotions, offers, discounts, and savings applicable to your order at the time of online checkout, regardless of the date of scheduled delivery/pickup. Any negative balance/credit amount shown resulting from Promo Codes, coupons, or other discounts and offers will be adjusted to $0. We also adjust the amount charged for out-of-stock items, substitution products, weighted items, and offers that do not apply due to the terms of the applicable offer. The final amount shown on your receipt at the time of delivery/pickup will reflect these adjustments. Full terms available at albertsonscompanies.com/about-us/our-policies/terms-of-use.html and delivery.safeway.com/terms.